Welcome to BRITAMILES.COM
"Music should make your soul happy! I hope my passion, testimony and ability to communicate through music will touch the lives of all who hear it." - Brita Miles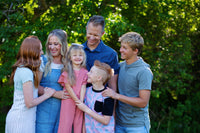 MEET BRITA MILES
Hello, and welcome to britamiles.com! I am Brita...the woman behind the music. I'm a stay-at-home mom, excited to finally follow my dreams! With the support of my loving husband and four incredible children, I am ready to embark on the journey of sharing my talents with the world...
Read More
Featured Testimonials
Brita's music truly speaks to the heart. I have directed and performed her music with several large choral groups and small ensembles with great outcomes.

MELISSA C.
When members of a young chorus excitedly tell you how much "fun" they had singing one of Brita's sacred pieces, you know they were touched in a very meaningful and special way.  That's the power of great music!

RICHARD R.
Her music softens hearts and deeply plants eternal truths. Those who experience Brita's music are inspired to become stronger disciples of Jesus Christ!

HEATHER P.